On 29 January, Lebanese actress and former belly dancer
Aïché Nana
(1940-2014) died. In 1958, a 'striptease' by the then 18 years old Nana at a Roman party caused an international scandal. Subsequently she became one of the icons of 'La Dolce Vita', the liberated era of sex, drugs and rock & roll as documented by Federico Fellini. Aïché Nana appeared in 15 European films between 1956 and 1985.
Italian postcard by Rotalcolor, Milano (Milan), no. 238.
High-powered Publicity
Aïché Nana was born as
Kiash Nanah
in Beirut, Lebanon, in 1940.
She became a famous belly-dancer in Istanbul and soon also danced in Paris left-bank cabarets. She reportedly employed high-powered publicity to sell her act to European producers. In 1956 French newspapers reported her mysterious disappearance from a Paris cabaret after writing a single word on a paper in her dressing room: "Farewell". After the French police was alerted and in the midst of all the publicity, she suddenly returned in good shape.
In 1958 the then 18 year old dancer caused a scandal that alerted the world to the luxurious and decadent lifestyle of the international jet-set in Rome that soon would become known as
La Dolce Vita
. Thanks to Cinecittà, the film production studios on the east side of the city, Rome had become a popular location for Hollywood films, and the foreign stars and writers began hanging out in the bars of Via Veneto.
On that historical November night, the Swedish actress
Anita Ekberg
danced barefoot at a party in the Rugantino, a trattoria in Trastevere before Aïché Nana stripped to her knickers. The public was a mix of playboys, film stars like
Linda Christian
and
Elsa Martinelli
, and aristocrats, who fled when the police arrived. To the police Aïcha claimed that merrymakers had ripped off her clothes.
The next day the striptease became a historical scandal when gossip columnist
Victor Ciuffa
(who later claimed to be the subject for the
Marcello Mastroianni
character in La Dolce Vita) published photo's taken by
Tazio Secchiaroli
in his column in the newspaper,
Corriere d'Informazione
. The published photos gave lie to Aïché Nana's story to the police. Italian authorities threatened her with a three year jail sentence and she quickly returned to Paris where striptease was permitted at the time.
The photos were published in magazines all over the world, including the famous American weekly
Life
. Later both Anita Ekberg and Aïché Nana's striptease were immortalized in
La Dolce Vita/The Sweet Life
(Federico Fellini, 1960).
Tazio Secchiaroli
, the original paparazzo, became the director's privileged stills photographer.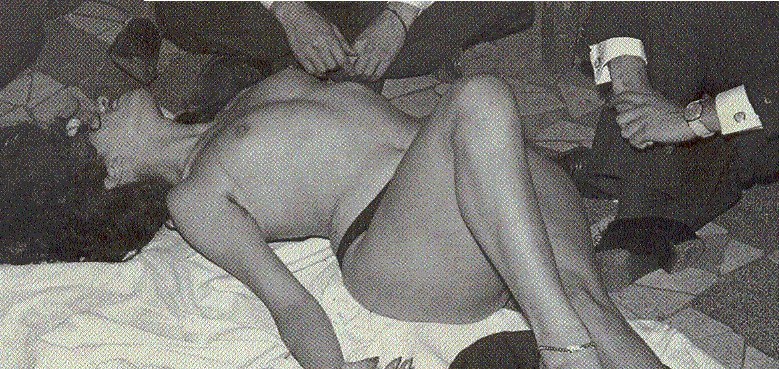 Aïché Nana's striptease in Rugantino. Photos: Tazio Secchiaroli. Source: Iconic Photos and Fondazione Italia.
Nunsploitation
Aïché Nana became something of a celebrity following her moment of infamy. Just 16, she had already appeared as a dancer in the French-Italian adventure film
La châtelaine du Liban/The Lebanese Mission
(Richard Pottier, 1956) starring
Jean-Claude Pascal
and
Omar Sharif
.
She stayed in Europe and danced ín the
Frankie Howerd
comedy
A Touch of the Sun
(Gordon Parry, 1956).
In the 1960s she stepped up to proper, secondary roles. The majority of her parts were in Euro-Westerns where her dark looks made her a natural at playing Mexicans. She appeared with bodybuilder
Mickey Hargitay
in the Spanish-Italian Western
Lo sceriffo che non spara/The Sheriff Won't Shoot
(José Luis Monter, Renato Polselli, 1965).
Among her other spaghetti westerns were
Thompson 1880
(Guido Zurli, 1966) with
George Martin
and
Gordon Mitchell
,
Crisantemi per un branco di carogne/Chrysanthemums for a Bunch of Swine
(Sergio Pastore, 1968) with
Edmund Purdom
, and
Giurò... e li uccise ad uno ad uno/Gun Shy Piluk
(Guido Celano, 1968) also starring Purdom as a coffin maker.
She also appeared in the thriller
A... come assassin/A… Like Assassin
(Angelo Dorigo, 1966) starring
Alan Steel
(aka the Italian actor
Sergio Ciani
) and was the leading lady of another Italian thriller
Due occhi per uccidere/Two Eyes To Kill
(Renato Borraccetti, 1968).
In the 1970s she appeared in
Edipeon
(Lorenzo Arato, 1970) with
Magali Noël
and
Massimo Serato
, the Oscar nominated comedy
I nuovi mostri/The New Monsters
(Mario Monicelli, Dino Risi, Ettore Scola, 1977) starring
Vittorio Gassmann
and
Ornella Muti
, and the Nunsploitation film
Immagini di un convent/Images in a Convent
(Joe D'Amato, 1979).
In the 1980s followed roles in two big budget productions. In
Marco Ferreri
's
Storia di Piera/The Story of Piera
(1983) she supported a star cast including
Isabelle Huppert
,
Hanna Schygulla
and
Marcello Mastroianni
. Her final film was the British-American Bible epic
King David
(Bruce Beresford, 1985) starring
Richard Gere
as the King of Israel who took on Goliath.
Aïché Nana was married to director
Sergio Pastore
(1932-1987), who had directed her in
Crisantemi per un branco di carogne
(1968). Nana died because of complications caused by a long lasting illness.
German trailer for
Thompson 1880
(1966). Don't glimpse or you'll miss Aïché. Source: koppschnicker33 (YouTube).
Sources:
La Repubblica
(Italian),
Corriere della Sera
(Italian),
Matt Blake
(The Wild Eye),
Tom Kington
(The Observer),
Benito Carlo Jr.
(The Inside Story via Modern Mechanix Blog),
Life
and
IMDb
.