Tonight is the final of the Eurovision Song Contest 2015. For non-Europeans: the Eurovision Song Contest has been broadcast every year since the start in 1956. So it is one of the longest-running television programmes in the world, but also one of the most watched non-sporting events, with audience figures somewhere between 100 million and 600 million internationally. Artists whose international careers were launched at Eurovision include Italian Domenico Modugno of the evergreen Volare in 1958, Céline Dion, who won for Switzerland in 1988 with the French-language song Ne partez pas sans moi (Don't leave without me), and the Spaniard Julio Iglesias, who has since sold over 300 million records worldwide. But the post today is about our favourite winner ever - ABBA. They won the contest for Sweden in 1974 with Waterloo.
German postcard by Polar Music International AB, SIB-tryck AB 1980. Photo: A. Hanser / Polar Music International AB.
First victory
In 1974,
ABBA
gave Sweden its first victory in the history of the Eurovision Song Contest. They are also the most successful group ever to take part in the tournament.
The Swedish group was formed in Stockholm in 1972, and comprised blond
Agnetha Fältskog
,
Björn Ulvaeus
,
Benny Andersson
(with moustache and beard), and dark-haired
Anni-Frid Lyngstad
. ABBA is an acronym of the first letters of their first names.
They became one of the most commercially successful acts in the history of popular music, topping the charts worldwide from 1972 to 1982. ABBA has sold over 381 million albums and singles worldwide and continue to sell millions of records a year.
During the band's active years, Fältskog and Ulvaeus were married, as were Lyngstad and Andersson, although both couples later divorced. At the height of their popularity, both relationships were suffering strain which ultimately resulted in the collapse of the Ulvaeus–Fältskog marriage in 1979 and the Andersson–Lyngstad marriage in 1981.
These relationship changes were reflected in the group's music, with later compositions including more introspective, brooding, dark lyrics.
Romanian postcard by Casa Filmului Acin.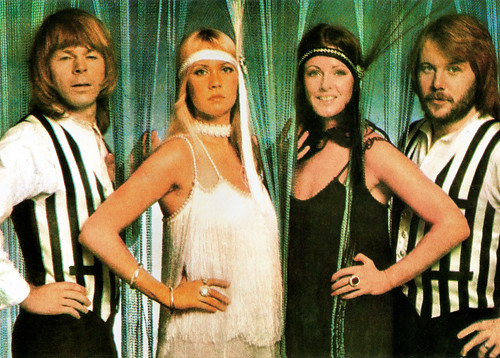 Romanian postcard by Casa Filmului Acin.
Before ABBA
Benny Andersson
(1946, Stockholm, Sweden) became at age 18 a member of the popular Swedish pop-rock group the Hep Stars, known as 'the Swedish
Beatles'
. Andersson played the keyboard and eventually started writing original songs for his band, many of which became major hits in 1966.
Björn Ulvaeus
(1945, Göteborg, Sweden) also began his musical career at 18, as a singer and guitarist for the folk-skiffle group The Hootenanny Singers. He started writing English-language songs for his group, and even had a brief solo career alongside. In June 1966, Ulvaeus and Andersson decided to write a song together. Their first attempt was
Isn't It Easy to Say
.
Stig Anderson
was the manager of The Hootenanny Singers and founder of the Polar Music label. He saw potential in the collaboration, and encouraged them to write more. Both also began playing occasionally with the other's bands on stage and on record, although it was not until 1969 that the pair wrote and produced some of their first real hits together:
Ljuva sextital
(Sweet Sixties), recorded by
Brita Borg
, and The Hep Stars' 1969 hit
Speleman
(Fiddler).
Andersson wrote and submitted the song
Hej, Clown
for the 1969 Melodifestivalen, the national festival to select the Swedish entry to the Eurovision Song Contest. The song tied for first place, but re-voting relegated Andersson's song to second place. On that occasion Andersson briefly met his future spouse, singer
Anni-Frid 'Frida' Lyngstad
(1945, Bjørkåsen, Norway), who also participated in the contest. A month later, the two had become a couple. As their respective bands began to break up during 1969, Andersson and Ulvaeus teamed up and recorded their first album together in 1970, called
Lycka
(Happiness), which included original songs sung by both men. In 1971, Frida had her first number 1 single,
Min egen stad
(My Own Town) written by Benny featuring all the future ABBA members on backing vocals.
Agnetha Fältskog
(1950, Jönköping, Sweden) sang with a local dance band headed by
Bernt Enghardt
who sent a demo recording of the band to
Karl Gerhard Lundkvist
. This led to Agnetha at the age of 18 having a number 1 record in Sweden with a self-composed song. Agnetha released four solo LPs between 1968 and 1971. She had many successful singles in the Swedish charts. They were often self-composed, which was quite unusual for a female singer in the 1960s. During filming of a Swedish TV special in 1969, Fältskog met Ulvaeus, and they married in 1971. In 1972, she starred as Mary Magdalene in the original Swedish production of
Jesus Christ Superstar
, to favourable reviews.
Hej, gamle man
, a song about an old Salvation Army soldier, became the quartet's first hit. The record was credited to
Björn & Benny
and reached number 5 on the sales charts and number 1 on Svensktoppen, the weekly record chart airing at Sveriges Radio, staying there for 15 weeks.
Stig Anderson
was determined to break into the mainstream international market with music by Andersson and Ulvaeus.
German promotion card by Polydor.
Swedish postcard by Ultraförlaget A.B., Stockholm, no. 28 - 012. Photo: Torbjörn Calvero.
The Eurovision Song Contest
Manager
Stig Anderson
encouraged
Bjorn Ulvaeus
and
Benny Andersson
to write a song for Melodifestivalen, the annual music competition in Sweden which determines the country's representative for the Eurovision Song Contest. After two rejected entries in 1971, Andersson and Ulvaeus submitted their new song
Säg det med en sång
(Say It with a Song) for the 1972 contest, choosing newcomer Lena Anderson to perform. The song came in third place and became a hit in Sweden.
Ulvaeus and Andersson experimented with new sounds and vocal arrangements.
People Need Love
was released in June 1972, featuring guest vocals by
Agnetha Fältskog
and
Anni-Frid Lyngstad
, who were now given much greater prominence. Stig Anderson released it as a single, credited to
Björn & Benny, Agnetha & Anni-Frid
. The song peaked at number 17 in the Swedish combined single and album charts, enough to convince them they were on to something. The single also became the first record to chart for the quartet in the United States, where it peaked at number 114 on the Cashbox singles chart and number 117 on the Record World singles chart.
The foursome decided to record their first album together in the autumn of 1972, and sessions began on 26 September 1972.
Agnetha Fältskog
and
Anni-Frid Lyngstad
shared lead vocals on
Nina, Pretty Ballerina
(a top ten hit in Austria) that day, and their voices in harmony for the first time gave the foursome an idea of the quality of their combined talents.
In 1973, the band and their manager
Stig Anderson
decided to have another try at Melodifestivalen, this time with the song
Ring Ring
. The studio sessions were handled by Michael B. Tretow, who experimented with a 'wall of sound' production technique that became the wholly new sound.
Stig Anderson
arranged an English translation of the lyrics by
Neil Sedaka
and
Phil Cody
and they thought this would be a sure-fire winner. However in 1973, the song came third in Melodifestivalen. Nevertheless,
Ring Ring
was a hit in many parts of Europe and also in South Africa, but Stig Anderson felt that the true breakthrough could only come with a UK or US hit.
In early 1973, Stig Anderson started to refer to the group privately and publicly as ABBA and in the summer the name became official. Ulvaeus, Andersson and
Stig Anderson
believed in the possibilities of using the Eurovision Song Contest as a way to make the music business aware of them as songwriters, as well as the band itself. In late 1973, they were invited by Swedish television to contribute a song for the Melodifestivalen 1974 and from a number of new songs, the upbeat number
Waterloo
was chosen. The group was now inspired by the growing glam rock scene in England.
ABBA won their national heats on Swedish television on 9 February 1974, and with this third attempt were far more experienced and better prepared for the Eurovision Song Contest. Winning the 1974 Contest on 6 April 1974 gave ABBA the chance to tour Europe and perform on major television shows.
Waterloo
was ABBA's first number one single in big markets such as the UK and West Germany. In the United States, the song peaked at number six on the Billboard Hot 100 chart, paving the way for their first album and their first trip as a group there.
Romanian postcard by Casa Filmului Acin.
German postcard by Polar Music International AB, SIB-tryck AB. Photo: Polar Music International AB. Publicity still for the album
Super Trouper
(1980).
After ABBA
ABBA has never officially announced the end of the group, but it has long been considered dissolved. Their final public performance together as ABBA was on the British TV programme
The Late, Late Breakfast Show
(live from Stockholm) on 11 December 1982. In January 1983, Fältskog started recording sessions for a solo album, as Lyngstad had successfully released her album
Something's Going On
some months earlier. Ulvaeus and Andersson, meanwhile, started songwriting sessions for the musical
Chess
. Except for a TV appearance in 1986, the foursome did not come together publicly again until they were reunited at the Swedish premiere of the
Mamma Mia!
film in 2008.
In October 1984,
Bjorn Ulvaeus
and
Benny Andersson
together with lyricist
Tim Rice
released the musical concept double album
Chess
. The singles
One Night in Bangkok
(with vocals by
Murray Head
and
Anders Glenmark
) and
I Know Him So Well
(a duet by
Barbara Dickson
and
Elaine Paige
, and later also recorded by both
Barbra Streisand
and
Whitney Houston
) were both hugely successful. In May 1986, the musical premièred in London's West End, and ran for almost three years. Chess also opened on Broadway in April 1988, but closed within two months due to bad reviews.
Andersson and Ulvaeus' next project,
Kristina från Duvemåla
, an epic Swedish musical, premiered in Malmö, in southern Sweden in 1995. The musical ran for five years in Stockholm, and an English version has been in development for some considerable time. Andersson and Ulvaeus have continued writing songs for the Swedish duo Gemini in 1985 and 1987.
Benny Andersson
has also regularly written music for films like
Roy Andersson
's
Sånger från andra våningen/Songs from the Second Floor
(2000). In 2001, Benny formed his own band, Benny Anderssons Orkester (BAO), which released three successful albums.
Bjorn Ulvaeus
and
Benny Andersson
have been highly involved in the worldwide productions of the musical
Mamma Mia!
, alongside Lyngstad who attends premieres. They were also involved in the production of the successful film version of the musical, which opened 2008. Andersson produced the soundtrack utilising many of the musicians ABBA used on their albums and tours. Andersson made a cameo appearance in the film
Mamma Mia!
(Phyllida Lloyd, 2008) as a 'fisherman' piano player in the Dancing Queen scene, while Ulvaeus is seen as a Greek god playing a lyre during the closing credits.
Both
Agnetha Fältskog
and
Anni-Frid Lyngstad
pursued solo careers on the international scene after their work with the group. Lyngstad acted in two films,
Gå på vattnet om du kan/Walk on Water If You Can
(Stig Björkman, 1979) with
Lena Nyman
, and the comedy
Jokerfejs
(Peter Wester, 1984). In 1982, Lyngstad chose Genesis drummer and vocalist
Phil Collins
to produce the album
Something's Going On
. The single
I Know There's Something Going On
became a number 1 hit in a.o. France, Belgium and Switzerland. Lyngstad's second solo album after ABBA was called
Shine
(1984), produced by
Steve Lillywhite
. It was her final studio album release for twelve years.
In 1980,
Agnetha Fältskog
recorded
Nu tändas tusen juleljus
(Now a thousand Christmas candles are lit), a Swedish Christmas album along with her 7 year old daughter
Linda
. The album peaked at No. 6 on the Swedish album chart in January 1982 and is one of the best-selling Swedish Christmas albums of all time. In 1983, Fältskog released the solo album
Wrap Your Arms Around Me
produced by
Mike Chapman
. This included the single
The Heat Is On
, which was a hit all over Europe and Scandinavia. In the United States, Fältskog earned a Billboard Top 30 hit with
Can't Shake Loose
. In 1983, she also starred in the Swedish comedy
Raskenstam/Casanova of Sweden
(Gunnar Hellström, 1983), a critical and box office success. Fältskog's second English-language solo album,
Eyes of a Woman
(1985) peaked at number 2 in Sweden and performed reasonably well in Europe. The album was produced by
Eric Stewart
of 10cc.
From 1992 to 1995,
Anni-Frid Lyngstad
was chairperson for the environmental organisation Artister för miljön (Artists for the Environment) in Sweden. Her environmental work for this organisation led up to the decision to record again. The album
Djupa andetag
(Deep Breaths) was released towards the end of 1996 and became a success in Sweden, where it reached number 1. Shelives a relatively low-profile life but occasionally appears at a party or charity function. On 26 August 1992, she married Prince
Heinrich Ruzzo Reuss von Plauen
, of the German Reuss family. Von Plauen died of lymphoma in 1999 at the age of 49. In addition to losing her husband, Lyngstad had also lost her daughter Lise-Lotte in a car crash a year earlier.
In early 1987,
Agnetha Fältskog
recorded an album
Kom följ med I vår karusell
(Come ride with me on my carousel) with her son
Christian
. The album contained songs for children and was sung in Swedish. In November 1987, Fältskog released her third post-ABBA solo album, the Peter Cetera-produced
I Stand Alone
. The album spent eight weeks at number 1 in Sweden. Shortly after some minor European promotion for the album in early 1988, Fältskog withdrew from public life and halted her music career. In 1996, she released her autobiography,
As I Am
, and a compilation album featuring her solo hits alongside some ABBA classics. In 2004, she made a successful comeback, releasing the critically acclaimed album
My Colouring Book
. In May 2013, Fältskog released a solo album entitled
A
through the Verve music label.
Clip of
Ring, Ring
(1973). Source: AbbaVevo (YouTube).
ABBA singing
Waterloo
at the Eurovision Song Contest 1974. Source: Mozpiano2 (YouTube).
Trailer
Abba The Movie
(Lasse Hallström, 1977). Source: CinemaTerrorDotCom (YouTube).
Clip of
The Winner Takes It All
(1980). Source: AbbaVevo (YouTube).
Sources:
Wikipedia
and
IMDb
.