Conchita Montenegro (1911-2007) was a sultry Spanish model, dancer, and stage and screen actress. She starred in several Spanish productions, but also in French, German and American films.
French postcard by Editions P.I., no. 42. Photo: Star.
Big German card by Ross Verlag. Photo: 20th Century Fox.
German postcard by Ross Verlag, no. A 3422/1, 1941-1944.
Sensuality and Beauty
Conchita Montenegro was born
Concepción Andrés Picado
in San Sebastian (Basque country) in 1911. She left her home town at the age of ten, moving to Madrid, where she was educated in a convent.
Conchita first worked as a model for the painter
Ignacio Zuloaga y Zabaleta
, and learned classical and Spanish dance. In her adolescence she went to Paris to follow dancing and acting lessons at the Opera school.
At her return in Spain she formed a dancing duo with her sister
Juanita
as Las Dresnas de Montenegro, to great acclaim in the capitals of Europe.She also toured with the Fanchon & Marco dance troupe. Montenegro supposedly revolutionised Spanish dance.
Her sensuality and beauty (brown eyes, wavy black hair, and an olive complexion) were soon discovered by the cinema world. In 1927, she did her first Spanish film
La muñeca rota
(Reinhardt Blotner, 1927), followed by
Rosa de Madrid
(Eusebio Fernández Ardavín, 1927) and
Sortilegio
(Agustín de Figueroa, 1927).
In 1928 Conchita Montenegro starred in the French film
La Femme et le Pantin/The Woman and the Puppet
(Jacques de Baroncelli, 1929), the second of eight film adaptations of
Pierre Louÿs
' classic novel about a Spanish femme fatale.
In his review at
IMDb
,
Mario Gauci
notes that Montenegro "has the requisite spunk and sensuous charge for the role".
German cigarette card in the series
Unsere Bunten Filmbilder
by Ross Verlag for Cigarettenfabrik Josetti, Berlin, no. 128. Photo: Fox.
British postcard in the Film Partners Series, London, no. P 4. Photo: publicity still for
The Cisco Kid
(Irving Cummings, 1931) with
Warner Baxter
.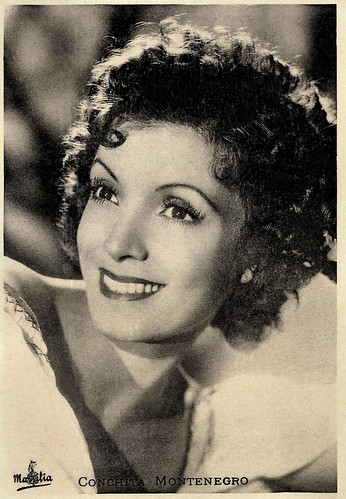 French collectors card by Massilia.
Not Kissing Clark Gable
In the summer of 1930 Conchita Montenegro went to the US when MGM offered her a contract. She was seventeen years old and could not speak English. Dubbing was not yet standard practice, so she was cast in several Spanish versions of MGM films, destined for Spain and Latin-America.
These included
De frente, marchen!/Doughboys
(Salvador de Alberich, Edward Sedgwick, 1930) with
Buster Keaton
,
Sevilla de mis amores/The Call of the Flesh
(1930) by and with
Ramón Novarro
,
Su última noche
(Carlos F. Borcosque, Chester M. Franklin, 1931) with
Ernesto Vilches
and
Juan de Landa
,
En cada puerto un amor/Way for a Sailor
(Borcosque, Marcel Silver, 1931) with
José Crespo
and again De Landa.
She quickly learned English and then played in English spoken films: the romantic comedy-drama
Never The Twain Shall Meet
(W.S. Van Dyke, 1931) starring
Leslie Howard
, and
Strangers May Kiss
(George Fitzmaurice, 1931) with
Norma Shearer
and
Robert Montgomery
.
One anecdote from her Hollywood times goes that when during probing she refused to kiss
Clark Gable
, long-standing film expert
Lionel Barrymore
remarked: "That little girl [she was 18] will give us much playtime".
By mid-1931, Montenegro had left MGM and signed with Fox, where she stayed until 1935.
Hans J. Wollstein
at
AllMovie
: "Fox (...) made her a 'Fox Debutante' in 1931 along with
Helen Mack
and
Linda Watkins
. Unlike Mack and Watkins, however, the studio never really pushed Montenegro, who instead labored in stock assignments." In August 1931 she was nearly killed in a train crash near Yuma, Arizona, while en route with
Warner Baxter
and
Edmund Lowe
to shoot
The Cisco Kid
(1931) in Tucson.
At Fox, Montenegro acted in various Spanish versions of Hollywood films:
Hay que casar al príncipe
(Lewis Seiler, 1931),
Marido y mujer
(Bert E. Sebell, 1932),
Dos noches
(1933) by
Carlos Borcosque
,
La melodía prohibida
(Frank Strayer, 1933),
Granaderos del amor
(John Reinhardt, Miguel de Zarraga, 1934) with Brazilian actor
Raoul Roulien
, and
¡Asegure a su mujer!
(Lewis Seiler; supervised by E. Jardiel Poncela, 1935) with Roulien,
Antonio Moreno
and
Mona Maris
.
Montenegro also acted in English spoken Fox productions:
The Cisco Kid
(Irving Cummings, 1931),
The Gay Caballero
(Alfred L. Werker, 1932) with
George O'Brien
,
Handy Andy
(David Butler, 1934) with
Will Rogers
, and
Hell in the Heavens
(John Blystone, 1934) with
Warner Baxter
.
She also acted in the Mascot Pictures production
Laughing at Life
(Ford Beebe, 1933) with
Victor McLaglen
and, again at Fox, in the French version of the film
Caravan
:
Caravane
(1934), both directed by
Erik Charell
and starring
Charles Boyer
and
Annabella
. Montenegro acquired the reputation of a social leader in the Spanish Hollywood film colony, leasing a large house and performing as hostess at many gatherings.
Italian postcard.
Armando Falconi
and
Conchita Montenegro
in the Italo-Spanish co-production
La nascita di Salomè/The birth of Salome
(1940), directed by
Jean Choux
, and shot in the Cinecittà studios in Rome.
Italian postcard. Photo: Memento-Film. Publicity still for
La nascita di Salomè
(Jean Choux, 1940).
Italian postcard by Prod. Stella Film and Dist. ICI Film. Publicity postcard for
La nascita di Salomè
(Jean Choux, 1940).
Offending Benito Mussolini
In May 1935, at the peak of her career, Conchita Montenegro's contract was not extended by Fox. She left for Europe, where she married
Raoul Roulien
in Paris in September 1935. The couple toured South America and produced a motion picture called
Jangada
(1936). The film dealt with the customs of primitive people in South America.
From 1936 on, Montenegro performed in various European productions, such as the multilingual
La vie parisienne/The Parisian Life
(1936), shot in Paris by
Robert Siodmak
, and
Lumières de Paris
(Richard Pottier, 1938) starring
Tino Rossi
.
In 1939 Montegro and Roulien went to Argentine where he directed her in the Spanish version of the Brazilian film
O Grito da Mocidade
(directed by Roulien as well):
El grito de la juventud
(Raoul Roulien, 1939). Soon after they divorced.
In 1940 Montenegro went to France where she acted in
L'or du Cristobal
(Jean Stelli, Jacques Becker, 1940) with
Charles Vanel
and
Albert Préjean
.
Then she moved to Italy where she played in various films: both versions of the multilungual
L'uomo del romanzo/Yo soy mi rival
(Luis Marquina, 1940) starring
Amedeo Nazzari
,
La nascita di Salomé/The Birth of Salomé
(Jean Choux, 1940), and
Amore di ussaro
(Luis Marquina, 1940).
In the historical biopic
Melodie eterne/Eternal Melodies
(Carmine Gallone, 1940),
Gino Cervi
starred as the young
Wolfgang Amadeus Mozart
and Montenegro played his unrequited first love, Aloisa Weber. The heavily fictionalised account of the life of the Austrian composer was shot at Cinecittà in Rome.
The film
Giuliano de'Medici
(Ladislao Vajda, 1941) offended
Benito Mussolini
, as it too clearly criticised a dictator. The film was only permitted re-release after cuts and a change in ideology, while Vajda fled to Spain. In 1942 Montenegro moved on to Spain.
In Spain she returned as a big film star, after an absence of some 13 years. She played in
Rojo y negro
(Carlos Arévalo, 1942) with
Ismael Merlo
,
Boda en el infierno
(Antonio Román, 1942) with
José Nieto
,
Aventura
(Jerónimo Mihura, 1942) with
José Isbert
, and
Ídolos/Idols
(Florián Rey, 1943) with
Juan Calvo
.
Ídolos
about a French actress who meets a Spanish bullfighter, was made by CIFESA, Spain's largest film studio at the time.
Her last film wasthe historical drama
Lola Montes
(Antonio Román, 1944) with
Luis Prendes
. Montenegro played the title role of the legendary Irish-born dancer and courtesan
Lola Montez
.
In 1944, Montenegro married the Spanish diplomat
Ricardo Giménez Arnau
, a senior member of the Falangist party and ambassador to the Holy See. She henceforth refused any interviews or honors, so in 1990 she declined the Medal for Artistic Merit by the Ministry of Culture.
According to Spanish author
José Rey Ximena
in his book,
El Vuolo de Ibis
(The Flight of the Ibis), British actor
Leslie Howard
– whom Montenegro dated in 1931 after playing together in
Never the Twain Shall Meet
- used her to get close to Spanish dictator
Franco
, on instigation of
Winston Churchill
. Montenegro used her husband's influence to secure a meeting between the British actor and the Spanish dictator while Howard was in Spain on a lecture tour to promote film in May, 1943.
Shortly afterwards
Leslie Howard
lost his life when the civilian plane on which he was a passenger on a return flight to England was shot down by German Luftwaffe and crashed into the Bay of Biscay. "Thanks to him, at least in theory, Spain was persuaded to stay out of the war," Rey Ximena claims of Howard.
Having been a widow since 1972, Conchita Montenegro passed away in Madrid in 2007. She was 95.
Italian postcard by Alterocca, Terni, no. 6615. Photo: Bragaglia. Publicity still for
L'uomo del romanzo/The man of the novel
(Mario Bonnard, Luis Marquina, 1940). The film is an Italian-Spanish production. The Spanish version is known as
Yó soy mi rival
(1940). Only
Conchita Montenegro
,
Amedeo Nazzari
and
Miguel del Castillo
appeared in both versions.
Italian postcard by Ed. Ballerini & Fratini, Firenze, no. 2915. Photo: Bragaglia / Sovrania Film.
Conchita Montenegro
and
Amedeo Nazzari
in
L'uomo del romanzo
(Mario Bonnard, Luis Marquina, 1940).
French postcard by Editions P.I., no 124. Photo: Star 124.
Sources:
Hans J. Wollstein
(AllMovie),
Mario Gauci
(IMDb), Wikipedia (
English
,
Spanish
and
French
and
IMDb
.