Fame came to Burt Lancaster (1913-1994) with his first film role, as the doomed Swede in Universal's The Killers (1946), but the former circus acrobat knew better than to leave his career in other hands. After less than two years in Hollywood, Lancaster formed his own production company and took the lead in such popular successes as the Technicolor swashbucklers The Flame and the Arrow (1950) and The Crimson Pirate (1952), and the Western Vera Cruz (1954). The athletic and handsome Lancaster remained a box office draw for 20 years, winning a 1961 Academy Award for playing the corrupt evangelist Elmer Gantry (1960). His best work through the next decades was often in European features like Luchino Visconti's Il gattopardo/The Leopard (1963) and Gruppo di famiglia in un interno/Conversation Piece (1974), Novecento/1900 (1976) and Atlantic City (1980), which netted him an Oscar nomination.
German postcard by Ufa, Berlin-Tempelhof, no. CK-156. Photo: Sam Lévin.
German postcard by Kunst und Bild, Berlin, no. A 338. Photo: Paramount. Publicity still for
I Walk Alone
(Byron Haskin, 1948).
French postcard by Editions P.I., Paris, presented by Les Carbones Korès 'Carboplane', no. 246. Photo: Hal Wallis / Paramount, 1949.
Acrobat, Nude Model and Singing Waiter
Burton Stephen Lancaster
was born in East Harlem in New York City in 1914. He was one of the five children of
Elizabeth (Roberts)
and
James Henry Lancaster
, a postal clerk at Manhattan's General Post Office. All of his grandparents were immigrants from Northern Ireland.
Burt was a tough street kid who took an early interest in gymnastics. Lancaster was accepted into New York University with an athletic scholarship but subsequently dropped out.
At the age of 19, Lancaster met
Nick Cravat
, with whom he continued to work throughout his life. Together they learned to act in local theatre productions and circus arts at Union Settlement, one of the city's oldest settlement houses. They formed the acrobat duo 'Lang and Cravat' and joined the Kay Brothers circus. In 1939, an injury forced Lancaster to give up the profession, with great regret.
He supported himself working as a nude artists model by day and a singing waiter by night. In 1942, he joined the US army during WW II and performed with the Twenty-First Special Services Division, organized to follow the troops on the ground and provide USO entertainment to keep up morale. He served with General Mark Clark's Fifth Army in Italy from 1943–1945.
After the war, he made his Broadway debut as
Burton Lancaster
in Harry Brown's wartime drama
A Sound of Hunting
, the source for the film
Eight Iron Men
(Edward Dmytryk, 1952). Though the production closed after 12 performances, Lancaster caught the eye of Hollywood agent
Harold Hecht
. Hecht provided Lancaster with an introduction to producer
Hal Wallis
.
Lancaster's debut was the Film Noir
The Killers
(Robert Siodmak, 1946) opposite
Ava Gardner
. Siodmak and cinematographer
Elwood Bredell
employed stark chiaroscuro lighting to offset Lancaster's angular face and chiselled physique. It made him an instant Hollywood star at the age of 32.
British postcard in the Picturegoer series, London, no. W 304. Photo: International Pictures Corporation.
British postcard in The People series by Show Parade Picture Service, London, no. P. 1038. Photo: Universal International.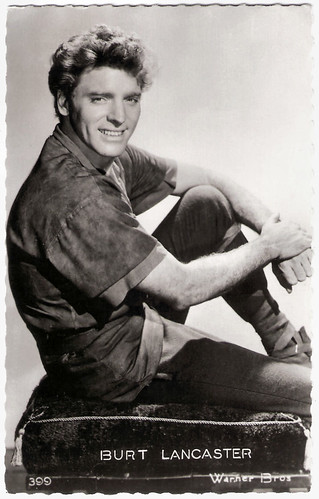 French postcard by Editions P.I., no. 399. Photo: Warner Bros. Publicity still for
The Flame and the Arrow
(Jacques Tourneur, 1950).
His own production company
After his sensational debut, the tall, muscular Lancaster appeared in two more films the following year. He traded on his tough guy image in
Jules Dassin
's
Brute Force
(1947) and
I Walk Alone
(Byron Haskin, 1948). He reunited with
Robert Siodmak
for another excellent Film Noir,
Criss Cross
(1949). He varied the image slightly, playing
Barbara Stanwyck
's cheating husband in
Sorry, Wrong Number
(Anatole Litvak, 1948) and
Edward G. Robinson
's conscience-bound son in
All My Sons
(Irving Reis, 1948), a personal project for which he took a $50,000 salary cut. Lancaster was a self-taught actor who learned the business as he went along.
Burt Lancaster impressed film audiences with his acrobatic prowess the Technicolor Swashbucklers
The Flame and the Arrow
(Jacques Tourneur, 1950) and
The Crimson Pirate
(Robert Siodmak, 1952). The films became his first major box-office successes. His friend from his circus years,
Nick Cravat
, played a key supporting role in both films. Lancaster played one of his best remembered roles with
Deborah Kerr
in
From Here to Eternity
(Fred Zinnemann, 1953). Iconic is the scene in which he and Kerr make love on a Hawaiian beach amid the crashing waves. He was nominated for an Academy Award for this role. Lancaster won the 1960 Academy Award for Best Actor, a Golden Globe Award, and the New York Film Critics Award for his performance for playing the corrupt evangelist in
Elmer Gantry
(Richard Brooks, 1960).
In 1948, Burt Lancaster had set up his own production company with
Harold Hecht
and
James Hill
, to direct his career. Their production company, Hecht-Hill-Lancaster, produced such films as the Oscar winner
Marty
(Paddy Chayefsky, 1955),
Trapeze
(Carol Reed, 1956),
Sweet Smell of Success
(
Alexander Mackendrick
, 1957), and
Separate Tables
(Delbert Mann, 1958). Lancaster realized a long-held dream and directed his own film,
The Kentuckian
(1955). Reviews were negative, however, and he did not return to the director's chair for another two decades. In 1965, United Artists made a settlement with Lancaster to end its association with Hecht-Hill-Lancaster, which had financially floundered in the late 1950s due to a few flops and exorbitant spending, and wound up operations in 1959.
His films often reflected his liberal political beliefs. In 1947 he signed a letter deploring the anti-communist witch hunts in Hollywood, and he was nearly blacklisted due to his political beliefs. The FBI kept a file detailing his activities. In 1963, he was one of the Hollywood stars, who participated in
Martin Luther King
's March on Washington. Later, Lancaster appeared prominently on President
Richard Nixon
's 'List of Enemies' due to his support for Senator George McGovern in the 1972 presidential election. In 1985, Lancaster joined the fight against AIDS after his close friend,
Rock Hudson
, contracted the disease. He campaigned for
Michael Dukakis
in the 1988 presidential election.
British postcard in the Picturegoer Series, no. D 79. Photo: Warner Bros. Publicity still for
The Crimson Pirate
(Robert Siodmak, 1952).
German postcard by Franz Josef Rüdel Filmpostkarten-Verlag, Hamburg-Bergedorf, no. W 1552. Photo: Warner Bros. Publicity still for
South Sea Woman
(Arthur Lubin, 1953).
German postcard by Kunst und Bild, Berlin, no. T 828. Photo: Warner Bros.
Heart Attack
During the latter part of his career, Burt Lancaster left adventure and acrobatic films behind and portrayed more distinguished characters. This period brought him work on several European productions. Italian director
Luchino Visconti
wanted to cast
Laurence Olivier
in the title role of the Italian prince in
Il gattopardo/The Leopard
(1963) opposite
Alain Delon
and
Claudia Cardinale
, but his producer overruled him. The producer insisted on a box office star to justify the lavish production's high budget and essentially forced Visconti to accept Lancaster. Lancaster delivered one of the strongest performances of his career, and the film was a huge success in Europe. Visconti directed him again in
Gruppo di famiglia in un interno/Conversation piece
(Luchino Visconti, 1974) with
Silvana Mangano
and
Helmut Berger.
In this film, Lancaster played a reclusive professor who is brought face to face with his latent homosexuality.
Lancaster sought demanding roles, and if he liked a part or a director, he was prepared to work for much lower pay than he might have earned elsewhere. He even helped to finance movies whose artistic value he believed in. He also mentored directors such as
Sydney Pollack
and
John Frankenheimer
and appeared in several television films. He also appeared in European features like
Novecento/1900
(Bernardo Bertolucci, 1976) as
Robert De Niro
's autocratic grandfather, and as an aging gangster in
Atlantic City
(Louis Malle, 1980), which earned him an Oscar nomination.
He tried to raise financing for four years for
Hector Babenco
's film of
Kiss of the Spider Woman
(1985), based on the novel by
Manuel Puig
, after Babenco gave him the novel in 1981 at the NY Film Critics Society Ceremony. Lancaster was to have played the role of Molina, the gay hairdresser who shares a cell with Valentin, a political prisoner. However, Lancaster had heart attacks in 1981 and 1983, and subsequently a quadruple-bypass operation, and at the age of 70, he was essentially uninsurable. The film was later made with
William Hurt
, who won a Best Actor Oscar as Molina.
In the 1980s Burt Lancaster appeared as a supporting player in a number of films, such as an American general in the Italian war drama
La pelle/The Skin
(Liliana Cavani, 1981), an astronomy-obsessed Texas oilman in
Bill Forsythe
's wry comedy
Local Hero
(1983). Lancaster's last feature film was
Field of Dreams
(Phil Alden Robinson, 1989) with
Kevin Costner
.
His acting career ended after he suffered a stroke in 1990 which left him partly paralyzed and largely unable to speak. At 80, Burt Lancaster died in his Century City apartment in Los Angeles in 1994, the very same year as his long-time friend and circus partner
Nick Cravat
.
Lancaster was married three times. He was married to acrobat
June Ernst
from 1935 to 1946, and to
Norma Anderson
from 1946 to 1969. His third marriage, to
Susan Martin
, was from September 1990 until his death in 1994. He and his second wife Norma had five children:
James Stephen 'Jimmy'
(1946),
William 'Billy'
(1947),
Susan Elizabeth
(1949),
Joanna Mari
(1951) and
Sighle
(1954).
German postcard by Franz Josef Rüdel, Filmpostkartenverlag, Hamburg-Bergedorf, no. 858. Photo: Columbia-Film. Publicity still for
From Here to Eternity
(Fred Zinnemann, 1953).
Yugoslavian postcard by IOM, Beograd. Photo: Sedmo Silo. Publicity still for
From Here to Eternity
(Fred Zinnemann, 1953) with
Deborah Kerr
.
Dutch postcard by Takken, no, AX 1128. Photo: Paramount.
Italian postcard by Bromofoto, no. 957. Photo: Columbia C.E.I.A.D.
Sources:
Richard Harland Smith
(TCM),
Jason Ankeny
(AlMovie),
Tony Fontana
(IMDb),
Wikipedia
and
IMDb
.