British pop singer
Frankie Vaughan
(1928-1999) issued more than 80 recordings in his lifetime. He was known as 'Mr. Moonlight' after one of his early hits and was famous for his fancy tuxedo, top hat and cane. He also starred in cabaret shows in New York and Las Vegas, and in several films, including
Let's Make Love
(1960) with Marilyn Monroe.
British postcard in the Picturegoer Series, London, no. D. 651.
Dutch postcard by Uitgeverij Takken, Utrecht, no. AX 5160.
Delighted squeals from his adoring, mostly female, audience
Frankie Vaughan was born
Frank Abelson
in Liverpool, England in 1928. He was the son of a Russian-Jewish upholsterer who lived in a poor area of Liverpool. The name 'Vaughan' came from a grandmother whose first grandson he was, who used to call Frank 'my number one' grandson, in whose Russian accent 'one' sounded like 'Vaughan'. He was an evacuee in Lancaster during World War II.
At age 14 he received a scholarship to the Lancaster College of Art, where he sang in the dance band. After a stint in the Royal Army Medical Corps in World War II, he returned to art school, this time the Leeds College of Art. There he gained his Art Teacher's Diploma in 1950. When he won a prize to design a furniture exhibition stand, he left for London.
In London, Vaughan won the second prize on a radio talent show, and began his theatre career doing variety song and dance acts. He was known as a fancy dresser, wearing top hat, bow tie, tails, and cane.
In the 1950's he worked for a few years with the
Nat Temple band
, and after that period he began making records, and became very popular in the UK. His first hit was
Look at That Girl
(1953) with
Ken Mackintosh and his orchestra
.
In 1955, he recorded what was to become his trademark song,
Give Me the Moonlight, Give Me the Girl
. He recorded a large number of songs that were covers of United States hit songs, including
Jim Lowe
's
The Green Door
(1956),
The Garden of Eden
(1957) and
Jimmie Rodgers
'
Kisses Sweeter than Wine
(1958).
His singing was reportedly accompanied by delighted squeals from his adoring, mostly female, audience. In early 1957 his cover of
The Green Door
reached #1 in the UK Singles Chart. The same year he was voted 'Showbusiness Personality of the Year'.
In 1961 Vaughan hit #1 for the second time in the UK with
Tower of Strength
, but the rise of beat music eclipsed his chart career for two or three years, before he returned to the Top 10 in 1967 with
There Must Be A Way
. Chart success eluded him after this although he did have two more Top 40 singles:
Nevertheless
and
So Tired
.
British postcard by Greaves Gravure, Scarborough, no. X 3.
German postcard by Krüger. Sent by mail in the Netherlands in 1964.
German postcard by Krüger, no. 902/24. Photo: Terb Agency.
Let's Make Love
During the 1950s, Frankie Vaughan appeared in a series of British film musicals including
Dangerous Youth
(Herbert Wilcox, 1957) with
Carole Leslie
, and
The Lady Is a Square
(Herbert Wilcox, 1959) opposite
Anna Neagle
.
In 1960, he went to the United States to make
Let's Make Love
(George Cukor, 1960) with
Marilyn Monroe
. In
Let's Make Love
, Vaughan had some nice numbers to sing.
That same year he appeared in another Hollywood film,
The Right Approach
(David Butler, 1961) with
Martha Hyer
, but his recordings were no chart hits in the USA.
In 1961 Vaughan returned to England and he was on the bill at the Royal Variety Performance at the Prince of Wales Theatre.
In the late 1960s, he became involved with youth social problems in Easterhouse, a large housing estate in the outskirts of Glasgow, and was influential in attracting new resources and inward investment to the area.
Vaughan continued performing until 1985, when he starred to great critical acclaim in a stage version of
42nd Street
at Drury Lane in London. He played a Broadway producer opposite his old friend
Shani Wallis
who had appeared in their first film together, the Western comedy
Ramsbottom Rides Again
(John Baxter, 1956). After a year, he suffered a near fatal bout of peritonitis and had to leave the cast.
Frankie Vaughan was created an OBE (Officer of the Order of the British Empire) in 1965, and a CBE (Commander of the Order of the British Empire) in 1996.
Frankie Vaughan died in 1999 from heart failure in Buckinghamshire, England, aged 71. According to the
BBC
obituary by
Nick Higham
, Vaughan was married to
Stella Shock
, from 1951 to 1999 and they had three children and several grandchildren. The Frankie Vaughan Archive, consisting of sheet music, scores, orchestral and band parts, was donated to Liverpool John Moores University by his widow
Stella Vaughan
in the summer of 2000.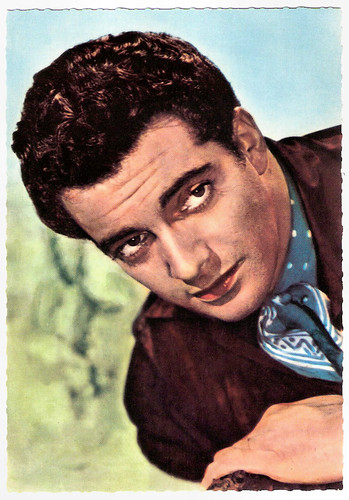 German postcard by ISV, no. H 18.
French posrcard by E.D.U.G., no. 50.
Marilyn Monroe
and
Frankie Vaughan
sing the title song in
Let's make love
(1960) - with Polish subtitles! Source: dorcia72 (YouTube).
Frankie Vaughan's
Garden of Eden
mimed by characters from the TV series
Lipstick on Your Collar
(1993) with
Ewan McGregor
. Source: Lipstick OYC (YouTube).
Sources:
Denis Gifford
(The Independent),
Nick Higham
(BBC),
Wikipedia
, and
IMDb