Yesterday, 28 January 2020, Belgian-born model, singer and actress Monique Van Vooren (1927) passed away. She gained notoriety for her many celebrity appearances on the game and variety show circuit in the 1950s and 1960s. She became a cult star, best remembered for her role as Baroness Katrin Frankenstein in Flesh for Frankenstein (1973).
French postcard by De Marchi Frères, Marseille. Photo: Bernard of Hollywood.
Gorgeous Blonde
Monique Van Vooren was born in Brussels, Belgium in 1927 (some sources say 1925). Her parents were
George Bronz
(or Bronze) and
Louise van Vooren
. She later adopted her mother's maiden name as her professional name.
She reportedly studied philosophy and languages and learned to speak English, Italian, French, German, Spanish, and Dutch. She started her career as a model and was photographed for
Life
magazine.
Her first film was the Italian production
Domani è troppo tardi/Tomorrow is Too Late
(Léonide Moguy, 1950) starring
Pier Angeli
. She became a naturalised United States citizen in 1951.The gorgeous blonde soon got a Hollywood contract and had a supporting part in
Tarzan and the She-Devil
(Kurt Neumann, 1953) starring
Lex Barker
.
In France she played the leading lady-in-distress in
Série Noire/Black Edition
(Pierre Foucaud, 1954), based on a series of popular paperback adventures of the same title.
Hal Erickson
at
AllMovie
calls it "an acceptable Gallic imitation of America's hard-boiled detective genre.
Henri Vidal
plays the anti-hero, who moves with ease through the Parisian underworld." She also appeared opposite tough guy
Eddie Constantine
in
Ça va barder/Give 'em Hell
(John Berry, 1955).
Back in Hollywood, she appeared in a small role in the musical comedy
Ten Thousand Bedrooms
(Richard Thorpe, 1957),
Dean Martin
's first solo film after his split with
Jerry Lewis
. She also played a bit part as a showgirl in the award winning musical
Gigi
(Vincente Minnelli, 1958) starring
Leslie Caron
, and had a role in the comedy
Happy Anniversary
(David Miller, 1959) with
David Niven
.
Van Vooren also performed on stage. On Broadway she played in
John Murray Anderson's Almanac
(1953) and in 1960 she appeared as Frenchy in the national tour of
Destry Rides Again
.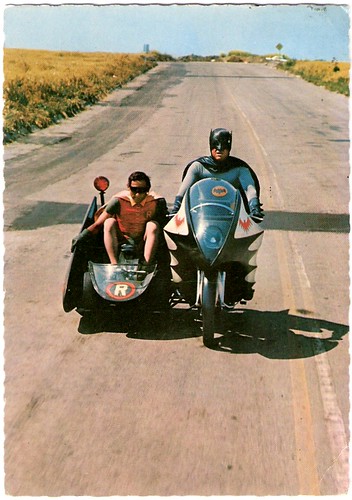 Dutch postcard by Vita Nova, Schiedam, no. 8/10/49. Sent by mail in 1967. Photo: National Periodical Publications Inc. Publicity still for the 20th Century-Fox Film
Batman
(1966).
Miss Clean
During the 1960s, Monique Van Vooren appeared incidentally in films such as the eccentric independent comedy
Fearless Frank
(Philip Kaufman, 1967) starring
Jon Voight
. Her few other credits of that decade include playing Miss Clean in two episodes of the television series
Batman
(1968).
She was better known as a 'wild' celebrity, who attracted more attention with her private life than with her films.
Jack Gaver
wrote in
The Gazette
about her appearance at the premiere of the rock musical
Hair
in April 1968: "One of those who was not outdone by onstage proceedings was actress Monique Van Vooren, who showed up wearing a transparent black chiffon blouse with nothing but Monique beneath it."
She returned to Europe where she appeared as the Queen of Skulls in
Il Decamerone/The Decameron
(1970), the first of director
Pier Paolo Pasolini
's 'trilogy of life.' The film was based on the sexually charged tales of 'Boccaccio'.
Her most memorable role was Baroness Katrin Frankenstein in
Flesh for Frankenstein
(Paul Morissey, 1973), starring
Udo Kier
and
Joe Dallesandro
.
Andy Warhol
was one of the co-producers of the film, but it was filmed in Cinecittà with an Italian film crew. In the USA, the film was marketed as
Andy Warhol's Frankenstein
, and was presented in the Space-Vision 3-D process in premiere engagements. The MPAA rated the film an X, due to its explicit sexuality and violence.
Van Vooren also played that year opposite
Elizabeth Taylor
in
Ash Wednesday
(Larry Peerce, 1973), and with
Mary Woronow
in the erotic thriller
Sugar Cookies
(Theodore Gershuny, 1973).
Sugar Cookies
was an early production credit for both Oscar-winner
Oliver Stone
and Troma Entertainment honcho
Lloyd Kaufman
.
She worked again with Stone on his
Wall Street
(Oliver Stone, 1987) starring
Michael Douglas
. Stone's son
Sean Stone
later cast her for his horror film
Greystone Park
(Sean Stone, 2012).
Monique Van Vooren passed away on 29 january 2020. She was 92. According to
Wikipedia
, her first visit to the United States apparently took place in 1946 at age 19, with the married name "Jakobson" and listed as a "housewife". Her second husband was
Kurt (or Curt) Henry Pfenniger
, whom she married in 1950. Her third husband was New York businessman
Gerard Walter Purcell
. The couple were married from 1958 until Purcell's death in 2002. They had one child.
Trailer for
Tarzan and the She-Devil
(1953). Source: pwgr2000 (YouTube).
Trailer for
Flesh For Frankenstein
(1973). Source: Pendulum House (YouTube).
Sources:
Hal Erickson
(AllMovie), Kurt Gardner (Weird Movie Village - now defunct), Jack Gaver (Gazette),
Muppet Wiki
,
Les gens du Cinema
(French),
Wikipedia
and
IMDb
.