At Il Cinema Ritrovato, Robert Mitchum (1917–1997) is the subject of the section Two Faces of Robert Mitchum. The American actor is one of the icons of Hollywood thanks to his roles as tough guys, loners and drifters in many War films, Westerns and such classic Film Noirs as Out of the Past (1947) and His Kind of Woman (1952). His facade of cool, sleepy-eyed indifference proved highly attractive to both men and women. Mitchum portrayed two of the scariest screen villains ever: the psychotic evangelist Reverend Harry Powell in Night of the Hunter (1955) and cruel rapist Max Cady in the original Cape Fear (1962). During his notable 55-year acting career, he appeared in more than 125 films.
Belgian collectors card by Kwatta, Bois d'Haine, no. C 215. Photo: M.G.M. Publicity still for
Desire Me
(George Cukor, Jack Conway, 1947).
Italian programme card for Il Cinema Ritrovata 2003. Photo: publicity still for
The Night of the Hunter
(Charles Laughton, 1955).
A trouble-making, wayward boy
Robert Charles Durman Mitchum
was born in 1917 in Bridgeport, Connecticut into a Methodist family. His parents were
James Mitchum
, a railroad worker of Irish descent, and
Anne Mitchum
, the daughter of a Norwegian ship captain. He had an elder sister, Annette (known as actress
Julie Mitchum
).
In 1919, James Mitchum was crushed to death in a railyard accident, when his son was less than two years old. Anne remarried to a former Royal Naval Reserve officer,
Major Hugh Cunningham Morris
. Robert grew up as a trouble-making, wayward boy and was sent to live with his grandparents when he was 12 years old. There he was expelled from his middle school for scuffling with a principal.
A year later, in 1930, he moved in with his older sister, in New York's Hell's Kitchen. After being expelled from Haaren High School, he left his sister and travelled throughout the country on railroad cars, taking a number of jobs including professional boxing. At age 14 in Savannah, Georgia, he was arrested for vagrancy and put on a local chain gang. By Mitchum's own account, he escaped and returned to his family in Delaware.
During this time, while recovering from injuries that nearly cost him a leg, he met the girl he would marry,
Dorothy Spence
. In 1936, he went back on the road, eventually riding the rails to California. In Long Beach, he worked as a ghost-writer for astrologer
Carroll Righter
.
His sister Julie convinced him to join the local theatre guild with her. In his years with the Players Guild of Long Beach, he made a living as a stagehand and occasional bit-player in company productions. He also wrote several short pieces which were performed by the guild. In 1940, he returned East to marry
Dorothy Spence
, taking her back to California. He remained a footloose character until the birth of their first child,
James
, nicknamed Josh (two more children followed,
Chris
and
Petrine
).
Mitchum then got a steady job as a machine operator with the Lockheed Aircraft Corporation. A nervous breakdown (which resulted in temporary blindness), apparently from job-related stress, led Mitchum to look for work as an actor or extra in films. An agent got him an interview with the producer of the series of B-Westerns starring
William Boyd
as flawless good guy Hopalong Cassidy. Mitchum's broad build, deep voice and insolent expression made him a perfect villain in several films in the series during 1942 and 1943.
He found further work as an extra and supporting actor in numerous productions for various studios. After playing a heroic co-pilot in
Thirty Seconds Over Tokyo
(Mervyn LeRoy 1943), Mitchum signed a seven-year contract with RKO Radio Pictures. He found himself groomed for B-Western stardom in a series of
Zane Grey
adaptations.
British postcard in the Picturegoer Series, London, no. W 758. Photo: R.K.O. Radio.
Italian postcard by Rotalfoto, Milano, no. 386.
Unique blend of strength, slow-burning sexuality and devil-may-care attitude
Following the moderately successful Western
Nevada
(Edward Killy, 1944), Robert Mitchum was lent from RKO to United Artists for
The Story of G.I. Joe
(William Wellman, 1945). In the film, he portrayed war-weary officer Bill Walker, who remains resolute despite the troubles he faces. The film, which followed the life of an ordinary soldier through the eyes of journalist Ernie Pyle (
Burgess Meredith
), became an instant critical and commercial success.
Shortly after making the film, Mitchum was drafted into the United States Army, serving at Fort MacArthur, California. At the 1946 Academy Awards,
The Story of G.I. Joe
was nominated for four Oscars, including Mitchum's only nomination for Best Supporting Actor. He finished the year off with the Western
West of the Pecos
(Edward Killy, 1945) and a story of returning Marine veterans,
Till the End of Time
(Edward Dmytryk, 1946).
The genre that came to define Mitchum's career and screen persona was Film Noir. His unique blend of strength, slow-burning sexuality and devil-may-care attitude helped to make him the personification of the Noir hero. His first foray into the genre was a supporting role opposite
Kim Hunter
in the B-movie
When Strangers Marry
(William Castle, 1944), as a woman's former lover who may or may not have killed her new husband.
Undercurrent
(Vincente Minnelli, 1946) featured him playing against type as a troubled, sensitive man entangled in the affairs of his brother (
Robert Taylor
) and his brother's suspicious wife (
Katharine Hepburn
).
The Locket
(John Brahm, 1946) featured Mitchum as bitter ex-boyfriend to
Laraine Day
's femme fatale.
Pursued
(Raoul Walsh, 1947) combined Western and Noir styles, with Mitchum's character attempting to recall his past and find those responsible for killing his family.
Crossfire
(Edward Dmytryk, 1947) featured Mitchum as a member of a group of soldiers, one of whom kills a Jewish man in an act of anti-Jewish hatred. It featured themes of anti-Semitism and the failings of military training. The film earned five Academy Award nominations.
Following
Crossfire
, Mitchum starred in
Out of the Past
(Jacques Tourneur, 1947). Mitchum played Jeff Markham, a small-town gas-station owner and former investigator, whose unfinished business with gambler Whit Sterling (
Kirk Douglas
) and femme fatale Kathie Moffett (
Jane Greer
), comes back to haunt him.
In 1948, after a string of successful films for RKO, Mitchum and actress
Lila Leeds
were arrested for possession of marijuana. The arrest was the result of a sting operation designed to capture other Hollywood partiers, as well, but Mitchum and Leeds did not receive the tip-off. After serving a week at the county jail, Mitchum spent 43 days at a Castaic, California, prison farm, with
Life
photographers right there taking photos of him mopping up in his prison uniform. The arrest became the inspiration for the exploitation film
She Shoulda Said No!
(Sam Newfield, 1949), which starred Leeds.
Mitchum claimed he was framed and in 1951 his case was overturned and his record cleared. However, the case enhanced his image as a rebel. The films released immediately after his arrest were box-office hits. The Western
Rachel and the Stranger
(Norman Foster, 1948) featured Mitchum in a supporting role as a mountain man competing for the hand of
Loretta Young
, the indentured servant and wife of
William Holden
, while he appeared in the film adaptation of
John Steinbeck
's novella
The Red Pony
(Lewis Milestone, 1949) as a trusted cowhand to a ranching family. He returned to true Film Noir in
The Big Steal
(Don Siegel, 1949), where he again joined
Jane Greer
.
Italian postcard by Edizioni Beatrice D'Este, no. 20240. Photo: Ernest Bachrach, 1948.
Vintage postcard. Photo: publicity still for
River of No Return
(Otto Preminger, 1954) with
Marilyn Monroe
.
The words Love and Hate tattooed on his hands
Robert Mitchum played a doctor who comes between a mentally unbalanced
Faith Domergue
and cuckolded millionaire
Claude Rains
in
Where Danger Lives
(John Farrow, 1950).
The Racket
(John Cromwell, Nicholas Ray, 1951) was a Noir remake of the early crime drama of the same name and featured Mitchum as a police captain fighting corruption in his precinct.
The
Josef von Sternberg
film
Macao
(1952) had Mitchum as a victim of mistaken identity at an exotic resort casino, playing opposite
Jane Russell
. They co-starred again in the steamy crime comedy-drama
His Kind of Woman
(John Farrow, 1952).
Craig Butler
at
AllMovie
: "Mitchum, by the way, is perfectly cast here, using his laconic, interior style to very good effect. Even Jane Russell, attired in outfits that emphasize her cleavage at every opportunity, turns in a more than decent performance. Woman is weird but wonderful."
Otto Preminger
's
Angel Face
(1953) was the first of three collaborations between Mitchum and British actress
Jean Simmons
, in which she plays an insane heiress who plans to use young ambulance driver Mitchum to kill for her. Mitchum was expelled from
Blood Alley
(1955), purportedly due to his conduct, especially his reportedly having thrown the film's transportation manager into San Francisco Bay. Producer
John Wayne
took over the role himself.
Following the
Marilyn Monroe
Western
River of No Return
(Otto Preminger, 1954), he appeared in
Charles Laughton
's only film as director,
The Night of the Hunter
(1955). Adapted by
James Agee
from a novel by
Davis Grubb
, the thriller starred Mitchum as a terrifying killer who had the words Love and Hate tattooed on his hands and who poses as a preacher to find money hidden in his cellmate's home.
Hal Erickson
at
AllMovie
: "Combining stark realism with Germanic expressionism, the movie is a brilliant good-and-evil parable, with 'good' represented by a couple of farm kids and a pious old lady, and 'evil' literally in the hands of a posturing psychopath." Mitchum's performance as Reverend Harry Powell is considered by many to be one of the best of his career.
Stanley Kramer
's melodrama
Not as a Stranger
(1955), was a box-office hit. The film starred Mitchum against type, as an idealistic young doctor, who marries an older nurse (
Olivia de Havilland
), only to question his morality many years later. However, the film was not well received, with most critics pointing out that Mitchum,
Frank Sinatra
, and
Lee Marvin
were all too old for their characters.
Olivia de Havilland
received top billing over Mitchum and Sinatra.
In 1955 Mitchum formed DRM (Dorothy and Robert Mitchum) Productions to produce five films for United Artists though only four films were produced. The first film was
Bandido
(Richard Fleischer, 1956). Following a succession of average Westerns and the poorly received
Foreign Intrigue
(Sheldon Reynolds, 1956), Mitchum starred in the first of three films with
Deborah Kerr
. The war drama
Heaven Knows, Mr. Allison
(John Huston, 1957), starred Mitchum as a Marine corporal shipwrecked on a Pacific Island with a nun, Sister Angela (
Deborah Kerr
), being his sole companion. In this character-study, they struggle to resist the elements and the invading Japanese army. The film was nominated for two Academy Awards, including Best Actress and Best Adapted Screenplay. For his role, Mitchum was nominated for a BAFTA Award for Best Foreign Actor.
In the WW II submarine classic
The Enemy Below
(Dick Powell, 1957), Mitchum gave a strong performance as U.S. Naval Lieutenant Commander Murrell, the captain of a U.S. Navy destroyer. He matches wits with a German U-boat captain
Curd Jürgens
, who starred with Mitchum again in
The Longest Day
(Ken Annakin, Andrew Marton, Bernhard Wicki, 1962).
Thunder Road
(Arthur Ripley, 1958), the second DRM Production, was loosely based on an incident in which a driver transporting moonshine was said to have fatally crashed on Kingston Pike in Knoxville, Tennessee. Mitchum not only starred in the film, but also produced it, co-wrote the screenplay, and allegedly directed much of the film himself. He returned to Mexico for
The Wonderful Country
(Robert Parrish, 1959) and Ireland for
A Terrible Beauty/The Night Fighters
(Tay Garnett, 1960) for the last of his DRM Productions.
Italian postcard by Rotalfoto, Milano, no. N. 68.
German postcard by Netter's Starverlag, Berlin. Photo: RKO Radio Film.

Menacingly vengeful rapist
Robert Mitchum and
Deborah Kerr
reunited for
The Sundowners
(Fred Zinnemann, 1960), where they played husband and wife struggling in Depression-era Australia. Opposite Mitchum, Kerr was nominated for yet another Academy Award for Best Actress, while the film was nominated for a total of five Oscars. Robert Mitchum was awarded that year's National Board of Review award for Best Actor for his performance. The award also recognised his superior performance in the Western drama
Home from the Hill
(Vincente Minnelli, 1960).
He was teamed with former leading ladies Kerr and Simmons, as well as
Cary Grant
, for the comedy
The Grass Is Greener
(Stanley Donen, 1960). Mitchum's performance as the menacingly vengeful rapist Max Cady who terrorises lawyer
Gregory Peck
and his family in
Cape Fear
(J. Lee Thompson, 1962) brought him even more attention and furthered his renown for playing cool, predatory characters.
The 1960s were marked by a number of lesser films and missed opportunities. Among the films Mitchum passed on during the decade were
John Huston
's
The Misfits
(1961), the Academy Award–winning
Patton
(Franklin J. Schaffner, 1970), and
Dirty Harry
(Don Siegel, 1971).
The most notable of his films in the decade included the war epics
The Longest Day
(Ken Annakin, Andrew Marton, Bernhard Wicki, 1962) and
Anzio
(Edward Dmytryk, 1968), the
Shirley MacLaine
comedy-musical
What a Way to Go!
(J. Lee Thompson, 1964), and the Western
El Dorado
(Howard Hawks, 1967), a remake of
Rio Bravo
(Howard Hawks, 1959), in which Mitchum took over
Dean Martin
's role of a drunken sheriff who helps
John Wayne
defend a town against unscrupulous cattlemen. He then teamed with Martin for the Western
5 Card Stud
(Henry Hathaway, 1968), playing a homicidal preacher.
One of the lesser-known aspects of Mitchum's career was his forays into music, both as singer and composer. Mitchum's deep, commanding, yet lively voice was often used instead of that of a professional singer when his character sang in his films. After hearing traditional calypso music and meeting artists such as
Mighty Sparrow
and
Lord Invader
while filming
Heaven Knows, Mr. Allison
in the Caribbean islands of Tobago, he recorded
Calypso — is like so ...
in March 1957. A year later, he recorded a song he had written for
Thunder Road
, titled
The Ballad of Thunder Road
. The country-style song became a modest hit.
Although Mitchum continued to use his singing voice in his film work, he waited until 1967 to record his follow-up record,
That Man, Robert Mitchum, Sings
.
Little Old Wine Drinker Me
, the first single, was a top-10 hit at country radio, and crossed over onto mainstream radio, where it peaked at number 96. Its follow-up,
You Deserve Each Other
, also charted on the Billboard Country Singles chart. He also sang the title song to the Western
Young Billy Young
(Burt Kennedy, 1969).
Italian postcard. Photo: DEAR Film. Publicity still for
Mister Moses
(Ronald Neame, 1965) with
Carroll Baker
.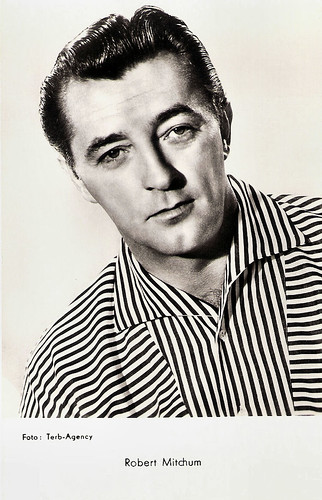 French postcard by Editions P.I., Paris, no. FK 4568. Photo: Terb-Agency.
A low-rent Boston crook on the wrong end of the mob's attentions
Robert Mitchum seriously considered retiring from acting in 1968 due to concerns over the quality of his recent films. After a year's absence, during which he spent much of the time driving around America visiting old friends and staying in motels, he was lured back to star in
Ryan's Daughter
(David Lean, 1970). He made a departure from his typical screen persona with his role as Charles Shaughnessy, a mild-mannered schoolmaster in World War I-era Ireland. Though the film was nominated for four Academy Awards (winning two) and Mitchum was much publicised as a contender for a Best Actor nomination, he was not nominated.
George C. Scott
won the award for his performance in
Patton
.
The 1970s featured Mitchum in several well-received crime dramas. He was a low-rent Boston crook who finds himself on the wrong end of the mob's attentions in
The Friends of Eddie Coyle
(Peter Yates, 1973). He played a retired detective sent to Japan to rescue a client's daughter from gangsters in
The Yakuza
(Sydney Pollack, 1974), which transplanted the typical Film Noir story arc to the Japanese underworld.
He also appeared in
Midway
(Jack Smight, 1976) about an epic 1942 World War II battle, and opposite
Robert De Niro
in
The Last Tycoon
(Elia Kazan, 1976). Mitchum's stint as
Raymond Chandler
's noble private eye Philip Marlowe in
Farewell, My Lovely
(Dick Richards, 1975) was sufficiently well received by audiences and critics for him to reprise the role in
The Big Sleep
(Michael Winner, 1978).
His last interesting role in this late-career revival came with the film version of
Jason Miller
's play
That Championship Season
(Jason Miller, 1982), with Mitchum as the coach of a quartet of former high school basketball teammates who struggle to adjust to middle age and maturity.
He expanded to TV work with the big-budget miniseries
The Winds of War
(Dan Curtis, 1983) as navy man Victor 'Pug' Henry, whose family is deeply involved in the events leading up to America's involvement in the war. He also played George Hazard's father-in-law on the Civil War miniseries
North and South
(Richard T. Heffron, 1985). He followed it with the sequel
War and Remembrance
(Dan Curtis, 1988).
Mitchum replaced old friend
John Huston
in his son Danny's largely ignored comedy
Mr. North
(Danny Huston, 1988). He also was in
Bill Murray
's comedy film,
Scrooged
(Richard Donner, 1988). In 1991, Mitchum was given a lifetime achievement award from the National Board of Review of Motion Pictures and the Cecil B. DeMille Award from the Golden Globe Awards in 1992.
Mitchum continued to act in films until the mid-1990s. He appeared, in contrast to his role as the antagonist in the original, as a protagonist police detective in
Martin Scorsese
's remake of
Cape Fear
(1991). He also gave a lively performance as a robber baron of sorts who drives
Johnny Depp
's character into the wilderness in
Jim Jarmusch
's eccentric Western,
Dead Man
(1995). His last film appearance was a small but pivotal role in the television biopic,
James Dean: Race with Destiny
(Mardi Rustam, 1997), playing Giant director
George Stevens
opposite
Casper Van Dien
as
James Dean
. His last starring role was in the Norwegian film
Pakten/Waiting for Sunset
(Leidulv Risan, 1995) with
Cliff Robertson
and
Erland Josephson
.
A lifelong heavy smoker, Mitchum died in 1997, in Santa Barbara, California, due to complications of lung cancer and emphysema. Mitchum was 79. He was survived by his wife of 57 years,
Dorothy Mitchum
and actor sons,
James Mitchum
,
Christopher Mitchum
, and writer-daughter,
Petrine Day Mitchum
. His grandchildren,
Bentley Mitchum
and
Carrie Mitchum
, are actors, as was his younger brother, John, who died in 2001. His ashes were scattered by wife Dorothy and longtime friend
Jane Russell
.
Trailer
The Big Steal
(1949). Source: Movieclips Trailer Vault (YouTube).
Trailer
The Night of the Hunter
(1955). Source: Movieclips Trailer Vault (YouTube).
Trailer
Cape Fear
(1962). Source: Movieclips Trailer Vault (YouTube).
Trailer
Farewell, My Lovely
(1975). Source: robatsea2009 (YouTube).
Sources:
Sandra Brennan
(AllMovie),
Hal Erickson
(AllMovie),
Craig Butler
(AllMovie),
Jim Beaver
(IMDb),
William Bjornstad
(Find A Grave),
The New York Times
,
TCM
,
Wikipedia
, and
IMDb
.